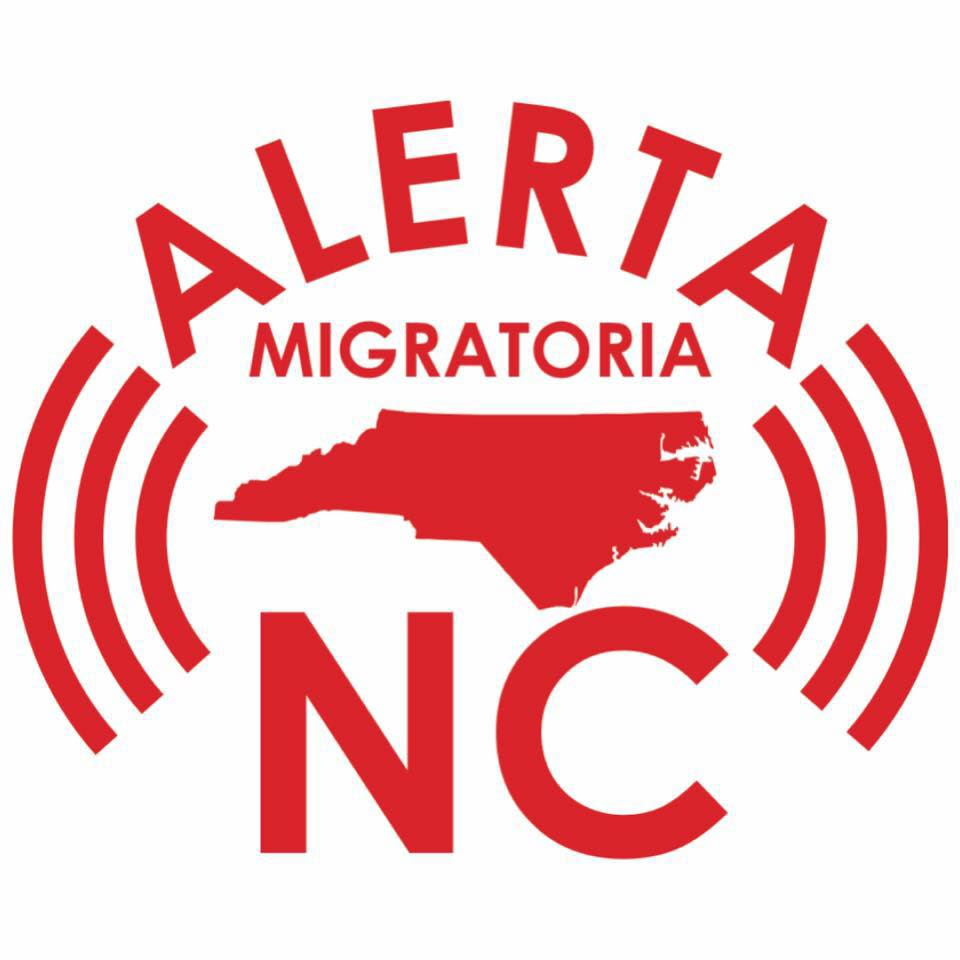 Contact: 520-243-9777
Para publicación inmediata
Declaración de Alerta Migratoria NC pidiendo a los demócratas que negocien con Trump

Alerta Migratoria NC fue fundada en 2014 para responder a las necesidades urgentes de una comunidad inmigrante que enfrentaba ataques por parte de la administración del previo presidente, Barack Obama. Con miembros en Carolina del Norte, Georgia, Carolina del Sur, Virginia y Tennessee, comprendemos de primera mano la realidad de lo que enfrentan los inmigrantes indocumentados a diario.
La urgencia de las vidas de los inmigrantes que representamos exige que aprovechemos cada oportunidad para promover sus derechos y avanzar. Nos oponemos a la propuesta "Poner fin al cierre de gobierno y asegurar la frontera", ya que es inaceptable. Sin embargo, hacemos un llamado a los demócratas para que combinen el coraje de nuestros miembros y negocien directamente con Trump para una solución permanente.

Negarse a negociar con los republicanos y con el presidente Trump no es aceptable. Miembros del Congreso, les pedimos – luchen por nosotros! La oferta del presidente Trump para restaurar algunas protecciones temporales para los soñadores y las personas con TPS a cambio de fondos del muro es débil, y estamos pidiendo a Pelosi y otros líderes democráticos que vayan y negocien. Vayan a la mesa con una oferta real y luchen por una solución permanente para los destinatarios de DACA y TPS.

Los demócratas deben tomar esta obertura como una salva de apertura y participar en negociaciones serias. El momento de lograr un cambio es ahora. Resistir negociaciones es fácil para aquellos que no tienen nada que perder.
Hemos visto los problemas y las excusas de los líderes demócratas durante los últimos dos años. Hemos escuchado mientras senadores y representantes del Congreso nos dicen que no hay nada que puedan hacer cuando nuestros amigos y seres queridos desaparecieron, fueron encarcelados y sufrieron a manos de inmigracion. "Los republicanos controlan todo, lo sentimos. No podemos hacer nada ", nos han dicho.

El tema de la inmigración y la vida de los DREAMERS y los receptores de TPS ha sido un tema manipulado por los demócratas para su beneficio politico durante demasiado tiempo. Nuestra comunidad les está rogando, trabajen y negocien para un cambio real y permanente. Apenas en 2013, los demócratas votaron a favor de más construccion, financiamiento y reclutamiento de oficiales de CBP. Si los líderes demócratas se oponen a los muros, deben derrumbar los muros y las cercas que ya existen en la frontera sur de los Estados Unidos.

Si los demócratas realmente se preocupan por la suerte de los receptores de Dreamers y TPS, negociarán con los republicanos en nuestro nombre.
---
Statement from Alerta Migratoria NC Calling on Democrats to Negotiate with Trump

Alerta Migratoria NC was founded in 2014 to respond to the urgent needs of an immigrant community facing increased attacks by the Obama administration. With members throughout North Carolina, Georgia, South Carolina, Virginia and Tennessee, we understand first hand the reality of what immigrants face on the ground.

The urgency of the lives of the immigrants we represent demands that we take every opportunity to advance their rights. We oppose the "End The Shutdown and Secure the Border Act" proposal as it is unacceptable. However, we call on Democrats to match the courage of our members and negotiate directly with Trump for a permanent fix.

Refusal to negotiate with Republicans, and with President Trump is not acceptable. We ask you – go to the mat and fight for us! President Trump's offer to restore some temporary protections for Dreamers and TPS individuals in exchange for wall funding is weak – and we are asking Pelosi and other democratic leaders to go and negotiate. Go to the table with a real offer and fight. Create a permanent solution for DACA and TPS recipients.  

Democrats should take this overture as an opening salvo and engage in earnest negotiations. The time to change is now. "RESIST" is an easy battlecry for those with nothing to lose.

We've seen the hand-wringing and the excuses from Democratic leaders for the last two years. We've listened while senators and congressional representatives tell us there is nothing they can do, when our friends and loved ones were missing, jailed, and suffering. "The Republicans control everything, we're sorry. We can't do anything."

The immigration issue and the lives of DREAMERS and TPS recipients has been easy political fodder for the Democrats for too long. Our community is begging you, go to work and negotiate for real, permanent change. As recently as 2013, Democrats were voting for more fencing, funding and CBP officer recruitment. If Democratic leaders are opposed to walls – lets see the walls and fences that are already on the Southern US border come down.

If Democrats truly care about the fate of Dreamers and TPS recipients, they will negotiate with Republicans on our behalf.